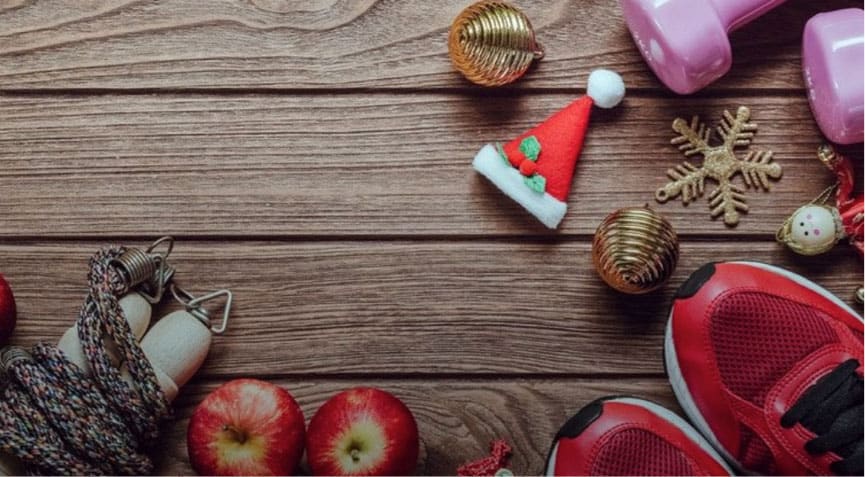 Christmas is a time traditionally given to overindulgence as Christmas drinks, office parties, end-of-year farewells and family get-togethers fill our December calendar. It's a time to connect with family and friends. While no-one can eat healthily 100 per cent of the time, here's our 5 tips to help you not end up looking like Santa by the end of the year.
1. START THE DAY WITH A HEALTHY BREAKFAST
On Christmas day, make a balanced and healthy breakfast! Include some fresh fruit and healthy protein. Making a yummy breakfast Christmas morning can be healthy and fun. For example, porridge is a very good choice. Porridge stabilises blood sugar levels, which helps control appetite later in the day. You can also add a good dollop of probiotic yogurt, which helps support the immune system and promote digestive health, as well as combat some of the less beneficial effects of the party season, like too much alcohol and not enough sleep.
Eat, drink and be wary at those Christmas feasts. Survey the starters, breads, side dishes, hams, turkeys, pavlovas and Christmas puddings and decide what you absolutely MUST HAVE and what you can leave. Don't use it as an excuse to eat as much as you can or get 'your money's worth. Also select treats. You should choose something that you can only enjoy during the holiday season and not something that is readily available all the time.
You should still perform your fitness routine whenever possible and if you can't do that, simply walk more, park your car some distance away from the store or just use the stairs. Or even better, make the holidays a family affair and plan outdoor activities where everyone is involved!
Drink plenty of water. Make sure, as you go throughout your day, you are sufficiently hydrated. Even slight dehydration can trick us into thinking we're hungry, and, therefore, we are more likely to overeat and give in to those treats! And it will also prevent a possible hangover if you overdo it with alcohol.
5. EAT WELL THE MORNING AFTER
After a big night out don't skip meals even if you are over-indulged. After all, it's the balance of your diet that's important. . For example Eggs are an excellent choice for the morning after because they provide choline, a nutrient that supports the liver. If you can't face a cooked breakfast then have a smoothie made with fruits like bananas, oranges or kiwi – these are rich in potassium which helps replenish the electrolytes lost due to the diuretic effects of alcohol.
Studio Figura welcomes you to an exclusive clinic, where you can indulge in 'me time' while achieving your health and wellness goals.
VISIT US FOR A FREE 30-MINUTE CONSULTATION!