Discover the best session for skin tightening, body fat reduction, body contouring to shape your body, shift stubborn fat, reduce cellulite and tighten loose skin.
What exactly is Fat Cavitation session?
Ultrasonic Fat Cavitation – also known as 'inch loss' – is excellent for targeting larger areas, stubborn pockets of fat and reducing circumference size. It's a safe non surgical fat reduction, ultrasonic cavitation helps to shape the body around the inner thighs, outer thighs, buttocks, stomach, back, hips and upper arms. Effective at targeting deeper fat cell membranes, that fat freezing or Coolsculpt isn't suitable for. If you have 3cm+ of fat, this service could be the most suitable for you. Cavitation is a popular service also for males who are struggling to lose fat around the abdomen.
How does Ultrasonic Fat cavitation work?
Fat Cavitation is using radio frequencies and low-frequency sound waves. These ultrasound waves break down fat cells around fat deposits under the skin. The fat bubbles then burst under the pressure, breaking the fat deposits into a liquid form. The body then gets rid of this waste through our lymphatic system where they are drained. The fat deposits are changed into
glycerol
and free
fatty acids
. Glycerol is then reused by the body for energy while free fatty acids travel to the liver and are excreted as waste.
The broken-down fat cells go from the body to the liver where they are excreted as waste.  It is a preferred method to other invasive procedures of eliminating body fat. It is important to note that your weight could return if you consume a high-calorie diet and are not drinking enough water.
A small 2019 study Trusted Source tested the effectiveness of ultrasonic cavitation for 50 women who were considered medically overweight.
Half of the women simply followed just a low-calorie healthy diet, while the other half had the low-calorie diet two days before fat cavitation sessions and two days after the session.
After 5 weeks, the women who had been given ultrasound cavitation showed a reduction in body fat mass. Interestingly, they didn't lose more weight than the other group — they simply lost body fat.
Another small study Trusted Source conducted much earlier in 2007 followed 30 individuals who were all given ultrasonic cavitation body contouring session for saggy skin.
Participants all saw a reduction in body fat mass after six sessions, loose skin was tightened. The treated body area was reduced in size by one to four centimetres at the conclusion of the study.
This study also showed that study participants didn't lose weight – they just lost fat and their body shape was changed, slimmer and toned.
What happens during an ultrasonic cavitation session?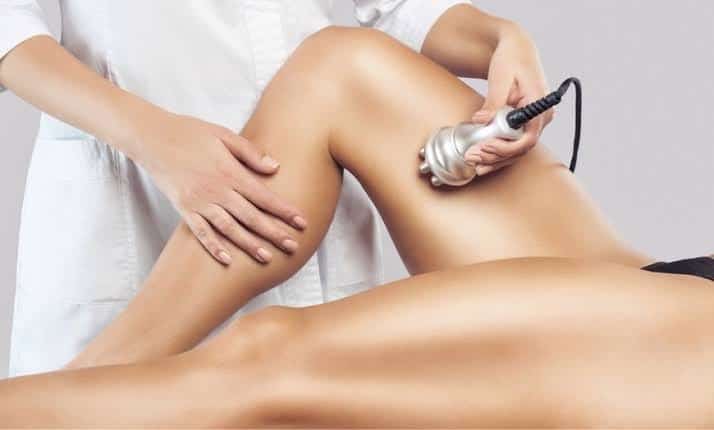 The procedure for fat cavitation is pretty straightforward, safe and without pain or downtime.
On the day of your appointment, your therapist may ask you to undress in private and put on a paper gown, depending on the area of your body that you're treating. The area that is going to be treated will be usually measured with a fat handle device to see how many centimetres of fat is on this area and how many sessions needed.
Durning the procedure a handheld fat cavitation device head is used to slowly go over the target area of your body.
You may feel a warm sensation during the procedure and hear a buzzing from the ultrasound machine. First session typically takes between 40 minutes to an hour.
Which body parts are best for ultrasonic cavitation?
Ultrasonic cavitation works best on parts with localised fat to reduce fat, contour the body and tighten skin. Ultrasound cavitation technology responds the best for these areas such as abdomen, love handles, banana roll, inner thighs, outer thighs, knee area, hips, buttocks and upper arms. This procedure cannot be performed on body parts like the head, neck, shoulders and other bony areas of the body.
Six amazing benefits of Fat Cavitation sessions
Fat Cavitation is highly effective for removing stubborn fat, reducing cellulite, stimulating circulation, increase collagen production, skin tightening and giving firmness to the skin. The procedure targets fat cells in the underlying skin layers using low-frequency ultrasonic waves to break down fat.
How many sessions of Non- Surgical Fat Cavitation do I need?
The body requires three days to properly eliminate the fat and toxins after a treated area through your lymphatic system. Session intervals also need to reflect this; at least two or three days must pass between each session. Most people who have 4cm + more fat, need a minimum of between eight and twelve fat cavitation sessions for best results.
How long does Fat Cavitation results last?
On average, this non-invasive session requires 2 to 3 visits for visible results. The very first session can already help you to lose 1 -2 centimetres. Results of this session are permanent, as long as you maintain a healthy diet and exercise. If you have a sedentary lifestyle, fat deposits may return to areas that have been treated, that they would have otherwise returned to.
Health Impacts of Fat Cavitation sessions
Ultrasound cavitation reduces the body's fat deposits that could be hard to get rid of by regular exercise alone. However, this procedure cannot be used for weight loss on its own. Ultrasonic cavitation is best for reducing fat, cellulite and adipose fat tissues. This improves body shape and contour and reduces circumference.
‌
It is vital to maintain a low-calorie
balanced diet
and to perform physical activities after completing the cavitation procedure. This will help to control your body weight and treat conditions like pre-diabetes in obese women, a leading cause of disease.
People eligible for an ultrasonic cavitation procedure include individuals with steady
Body Mass Index
values (18.5k / m2 and 24.9kg / m2) and women with adiposity around the abdomen. The following individuals should not undergo the Fat Cavitation procedure:
People eligible for an ultrasonic cavitation procedure include individuals with steady
Body Mass Index
values (18.5k / m2 and 24.9kg / m2) and women with adiposity around the abdomen. The following individuals should not undergo the Fat Cavitation procedure:
Pregnant and breastfeeding women
Persons showing skin fold lower than 2 cm
Individuals with a history of malignancies

People with a cardiac pacemaker or other metal implants
Persons with coagulation disorders or taking medication that affects blood clotting
Individuals with serious medical conditions like diabetes and osteoporosis
Ultrasound cavitation is a safe FDA approved procedure. Since the procedure is non-invasive, there is no downtime needed. The destroyed fat cells do not grow back if the right amount sessions are done for optimum results. The results of ultrasonic cavitation can last with continued weight maintenance activities or physical activities.
Ultrasonic cavitation should not be used as a replacement for doing physical exercise. Doing regular exercise is recommended in conjunction with Fat Cavitation for effectiveness in reducing body weight and the risk of developing
coronary medical conditions
.
Does cavitation permanently remove fat?
Are Fat Cavitation session results permanent? Fat Cavitation is generally considered to produce permanent results, as the session breaks down fatty acids in your body. However, the session doesn't prevent your body from creating new fat cells – and it is not seen as a weight loss solution on it's own. For the best results it's recommended to combine with physical exercise or Beauty Shaper lipomassage or Vacu Shaper session.
How do you get the best results after cavitation?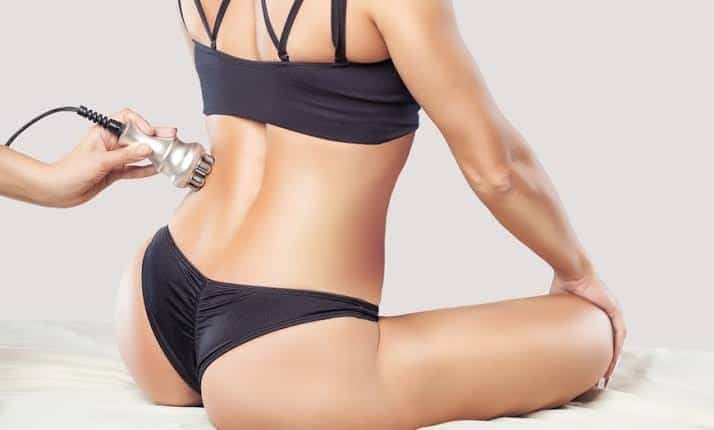 Maintaining a low calorie, low carbohydrate, low fat, and low sugar diet for 24 hours pre-session and three days post-session will help achieve the best results. This is to ensure your body utilises the triglycerides a type of body fat released by the fat cavitation process.
How much water should I drink after cavitation?
To ensure that your body responds well to ultrasound fat cavitation, drink a minimum of 1.5 litres/ 6 cups of water before and following your session. Stagger 2 litres intake of water over 24 hours, for three days post-session.
Who should avoid Fat Cavitation?
This service can NOT be performed on anyone who is pregnant or breastfeeding, has an infectious disease, high cholesterol, immune disorders, heart disease, has a pacemaker, HIV or AIDS, cancer, high blood pressure, liver or kidney disease, has had an organ transplant, metal rods in the body, on anticoagulants, antibiotics or you are under the age of 18. If you are menstruating we do not recommend you the service during this time either.
Fat Cavitation before and after photos
At Studio Figura we've helped many people achieve their desired results of body goals in only a few sessions with little to no downtime. Check our before and after photo gallery to see our actual clients' results.
Ready to start looking and feeling your best? Reach out to us today to schedule your complimentary Free Consultation without obligation and find out if you're a good candidate for Ultrasonic fat cavitation. This is a perfect option if you are looking to reduce stubborn pockets of fat, skin tightening, reduce and smooth cellulite
Book your Free Consultation here