Fresher More Youthful Appearance Without the Downtime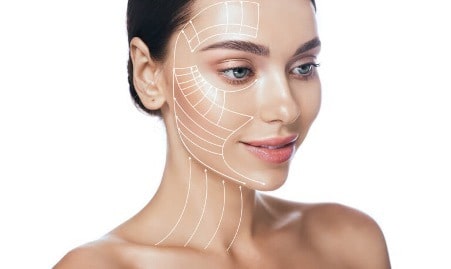 HIFU cosmetic treatment is the next evolution in aesthetic science for youthful appearance. HIFU is a new type of non-surgical facelift & body sculpting. Non-invasive procedure that uses high intensity focused ultrasound underneath 6 skin layers and the body's own natural healing process to rejuvenate, smooth the skin, tighten and contour skin, decrease sagging skin and reverse the appearance of ageing on the face and body.
It focuses ultrasound energy directly on the collagen layer and fascia layer. Stimulating reorganisation and replenishment. Newly generated collagen tightens and lifts skin from inside-out and restores elasticity. 
It penetrates the subcutaneous layer to reach the fat layer, the temperature rises and focuses on the quantity of heat to reduce fat cells and the melted fat goes out through body metabolism to achieve fat reduction. 
HIFU device uses both Micro and Macro Ultrasound waves and heat HIFU technology, by delivering precisely focused beams of ultrasound energy at three different depths in the skin's layers to moderate skin laxity. The body's natural wound healing response results in the formation of new collagen which leads to a long term skin lifting, skin tightening and firmer skin.
HIFU procedure stimulates collagen and elastin production by delivering ultrasound energy to the skin's foundational layer typically addressed in cosmetic surgery – without cutting or disrupting the surface of the skin. Coagulation zone into 1.6mm, 3mm and 4.5mm depth (SMS layer).
Higher temperature than 400F, triggers a natural response under the skin, produces immediate tighter skin effect, plumped skin (like we had when we were younger), jump starting the regenerative process that builds up collagen and elastin.
Unlike lasers, which penetrate the skin from the outside-in, the HIFU procedure bypasses the surface of the skin, and delivers targeted energy specifically into the deep, structural tissues where collagen lives to produce more collagen for rejuvenation and reverses the natural aging process.
Because ultrasound technology actually works non-invasively from the inside-out, results build gradually over 2-3 months, and can continue to improve up to 6 months after the procedure.
The HIFU treated area is carried out mostly over the entire face, neck, chest areas, arms, abdominal, thighs and knee areas. These areas are most often affected by loss of tone, loose skin and respond well to ultrasound therapy. Depending on your needs, it is also possible to treat just a targeted area of the face; forehead, double chin, the jawline can be targeted to redefine facial contours, while the eye area can be targeted to lift eyebrows, smooth fine lines and wrinkles "open-up" the eyes to lift eyelid
By adapting ultrasound variable frequencies and cartridges, HIFU can treat several skin and body concerns:
1.5 & 2 mm cartridges: for smoothing wrinkles and fine lines, enlarged pores and skin rejuvenation.
3 mm cartridge: for tightening the skin by stimulating collagen and elastin production in the dermal layer.
4.5 mm cartridge: targets the superficial muscular aponeurotic system muscle layer to lift and tone.
12 mm cartridge: targets fat layer to reduce fat cells for body sculpting and body contouring. Also reduces saggy skin for tighter skin
No down time
Painless
Just one treatment: Visible results right away
Long lasting result: the effect lasts 1-2 years
Excellent alternative for plastic surgery
Quick procedure – on the face takes only 30 -45 minutes
Effective on all areas of the face
No long term recovery
Ability to eliminate or soften deep wrinkles and fine lines
Preservation of the natural lines of the face, there is no strong skin tension
Lifting and tightening
Making the skin delicate and bright
Body contouring & slimming
(HIFU) is a safe cosmetic treatment for skin tightening.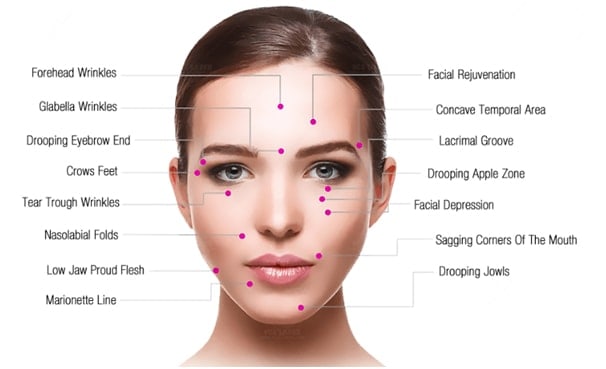 WHAT PROBLEMS CAN HIFU SOLVE?
Loose skin on the face, arms, thighs, knees, elbows, abdomen
Remove Wrinkles around the eyes, mouth (age- related)
Drooping of the eyelid
Sagging skin on the chin, face, neck, abdomen
Loss of firmness of the face, chin, jawline, neck, décolleté, as well as wrinkles in these areas
How Many HIFU Treatments Do I Need?
Most clients require only one treatment and in some instances additional treatments - it depends on age, loss of collagen and skin grades. The results will last several years depending on clients genes and skincare. The next treatment can be repeated as needed by keeping at least 8 weeks apart between treatments. As for fat-melting procedures such as for jowls or double chin reduction, 2 to 3 HIFU sessions might be needed. However you will see results right after your first treatment.
HIFU facelifts are so effective that youthful changes are noticeable for twelve to eighteen months. We usually recommend only returning for follow-up treatments every eight to twelve months to maintain your skin laxity, fresh, youthful appearance.
In a survey, 94% of people described improvement in skin lifting at a 3-month follow-up visit. The same study Trusted Source found that improvement in appearance persisted for at least 6 months. You will likely need to have additional HIFU treatments once the natural aging process takes over. In one study Trusted Source, 97.8% of people described the improvement as very good or beyond expectations after the HIFU treatments.
How Long Does A HIFU Facelift Take?
A full face, décolleté and neck treatment can take up to 60 minutes, with individual areas being treated in as little as 15 to 30 minutes. HIFU clients can resume normal activities immediately and wear make up following the procedure.
What Can I Expect During My HIFU focused ultrasound treatment?
Photos will be taken to track the process. Before HIFU cartridges are applied to your face, the ultrasound gel will be applied to your face that responses to ultrasound. Durning the HIFU non invasive treatment you can experience the heat, slight redness and light tingling sensation. For a few weeks you should avoid sauna, direct sun, steam rooms to not affect collagen production.
Can HIFU damage your skin?
HIFU non invasive treatment is safe because the ultrasound energy targets only the upper dermal, lower dermal and SMAS layers of the skin. It does not cause any damage to the Epidermal area of skin surface (top layer of the skin).
Are There Any Side Effects With HIFU Treatments?
As HIFU technology is non-surgical, the side effects are minor and are usually limited to possible redness for a few hours after a procedure. Some patients experience temporary tingling, tenderness, and minor swelling with a few reporting minor bruising up to two weeks after. If you're concerned about side effects, please get in contact with us.
Is HIFU better than Botox?
It is a non-invasive technique that uses the body's own generated collagen fibres as a stimulation, whereas botox and fillers involve injecting foreign substances to achieve the same results. Hence HIFU is more natural and long-lasting when compared to botox and fillers
HIFU non surgical treatments are priced at just a fraction of the cost of surgical procedures. The HIFU price is designed to be more affordable and easily accessible to people just like you. Depending on the area to be treated, prices can range from between $150 to $1600 per treatment. For the best advice, come in and discuss the HIFU non-surgical facelift during your free consultation.
Which HIFU Treatment Do I Choose?
While you might find HIFU treatments at a lower cost than at Studio Figura, the quality of devices and treatments can range significantly. A lot of places don't change their cartridges and their device can be old and not deliver the proper heat and ultrasound waves. Usually, treatments are categorised in two ways, HIFU treatments delivered by professionals (focused ultrasound), and fractionated ultrasound performed by therapists.
The main differences between the HIFU we deliver with our advanced HIFU device and other devices compared to Micro-fractionated Ultrasound treatments:
A micro-fractionated device or an unbranded HIFU may not omit the same amount of heat or energy as a proper type of HIFU and may require more sessions to achieve visible results.
A good HIFU procedure should also NOT be 'painless' as HIFU utilises 72°C of heat, partially damaging collagen structure, allowing them to repair over time to become tighter and firmer.
HIFU works wonderfully even on intricate, sensitive areas, ensuring quick results, no downtime and complete satisfaction in our clients.
STUDIO FIGURA HIFU BEFORE AND AFTER PHOTOS
Click on the image to see the results of HIFU: 
BOOK ONLINE NOW or talk to our professional on 0447 235 969.
We recommend to book a Free Consultation without obligation. While most of our clients have amazing results with HIFU, results do vary, and we can't make guarantees. In particular, very aged skin may have limited rejuvenation benefits, and HIFU may not be the best option. Book in your free consultation today for the most accurate, personalised advice for your targeted areas and treatment plan. Durning the consultation your skin stages will be analysed and collagen levels determined.
Experience High-Intensity Focused Ultrasound (HIFU) that is a relatively new cosmetic treatment for skin tightening to encourage the production of collagen so that you have, firmer skin refined wrinkles and rejuvenated skin.
Book online today and feel good about your body & face again, even the little yet not-so-little problematic areas! We also accept Afterpay and Payment Plan! Do you have saggy, crepey, loose skin? If yes, HIFU treatment is the way to go. Claim your Free Consultation
You can also read more about HIFU here